20 Euro - 230th Anniversary of the Constitution of 3 May and Mutual Pledge of the Commonwealth of the Two Nations (2021)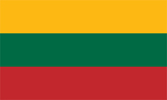 Features
| | |
| --- | --- |
| Denomination | 20 Euro |
| Weight (g) | 28.28 |
| Diameter (mm) | 38.61 |
| Shape: | Round |
| Composition: | Silver (.925) |
| | Not Magnetic |
| Metal Value (USD) | 19.07 |
| Currency Value (USD) | 20.51 |
| | Commemorative |
| | Non Circulating |
Obverse
Engraved by Giedrius Paulauskis
Lettering:
ABIEJŲ TAUTŲ RESPUBLIKOS GEGUŽĖS 3-IOSIOS KONSTITUCIJA IR TARPUSAVIO ĮŽADO AKTAS
230

Description:
The quartered Coat of Arms of the Polish-Lithuanian Commonwealth, i.e. the Coat of Arms depicted on the thaler - a circulation coin of Stanisław August Poniatowski's period, surrounded by the inscriptions THE CONSTITUTION OF 3 MAY AND MUTUAL PLEDGE OF THE COMMONWEALTH OF THE TWO NATIONS and 230.
Reverse
Engraved by Giedrius Paulauskis
Lettering:
20€
LIETUVA 2021

Description:
Fragment from the Constitution's preamble as well as a stylised motif from Jan Matejko's painting "Adoption of the Constitution". Inscription LITHUANIA, the denomination, the year of issue and the mintmark of the Lithuanian Mint.
Edge
Lettering:
1791

Description:
Inscripted
| Year | Mintage | Comment | Rarity |
| --- | --- | --- | --- |
| 2021 | 2,500 | Proof | Unknown |