MS International Vilnius Coin Fair 16-17 november 2019
MS International Vilnius Coin Fair 16-17 november 2019
---
Hello !!
With this topic, we would like to invite you to the MS International Coin Fair in Vilnius, Lithuania. This event will take place on 16-17 November 2019. We would be very happy to welcome you to this great event. This Coin Fair is a great opportunity to present and promote your business, so do not miss it! You can register as an exhibitor or get a ticket as a visitor.
--> https://tickets.paysera.com/en/event/vilnius-international-coin-fair-2019
MS Vilnius International Coin Fair 2019 is the biggest international numismatic event at this scale held in the Baltic States and Eastern Europe.
The event aims to promote the numismatic traditions in Europe and encourage investments into the precious metals and collectors' commodities.
Trade show of coins, medals, investment gold, banknotes, accessories, precious metals and decorations. Beginners, numismatists, collectors, dealers and private investors are all welcomed.
The program includes the following:
· LOTTERY
· CONFERENCES
· NETWORKING
· VIP PARTY (Limited number of places)
· 2 LIVE AUCTIONS ON https://millenium-state.com/auction/live
· TRAININGS - How to use the online numismatic online platform millenium State. ( Bullion Gold - Numismatic - Live auctions - Live Bidding System )
For more information or any questions do not hesitate to contact us. We hope to see you at the fair soon!!!
contact: contact@millenium-state.com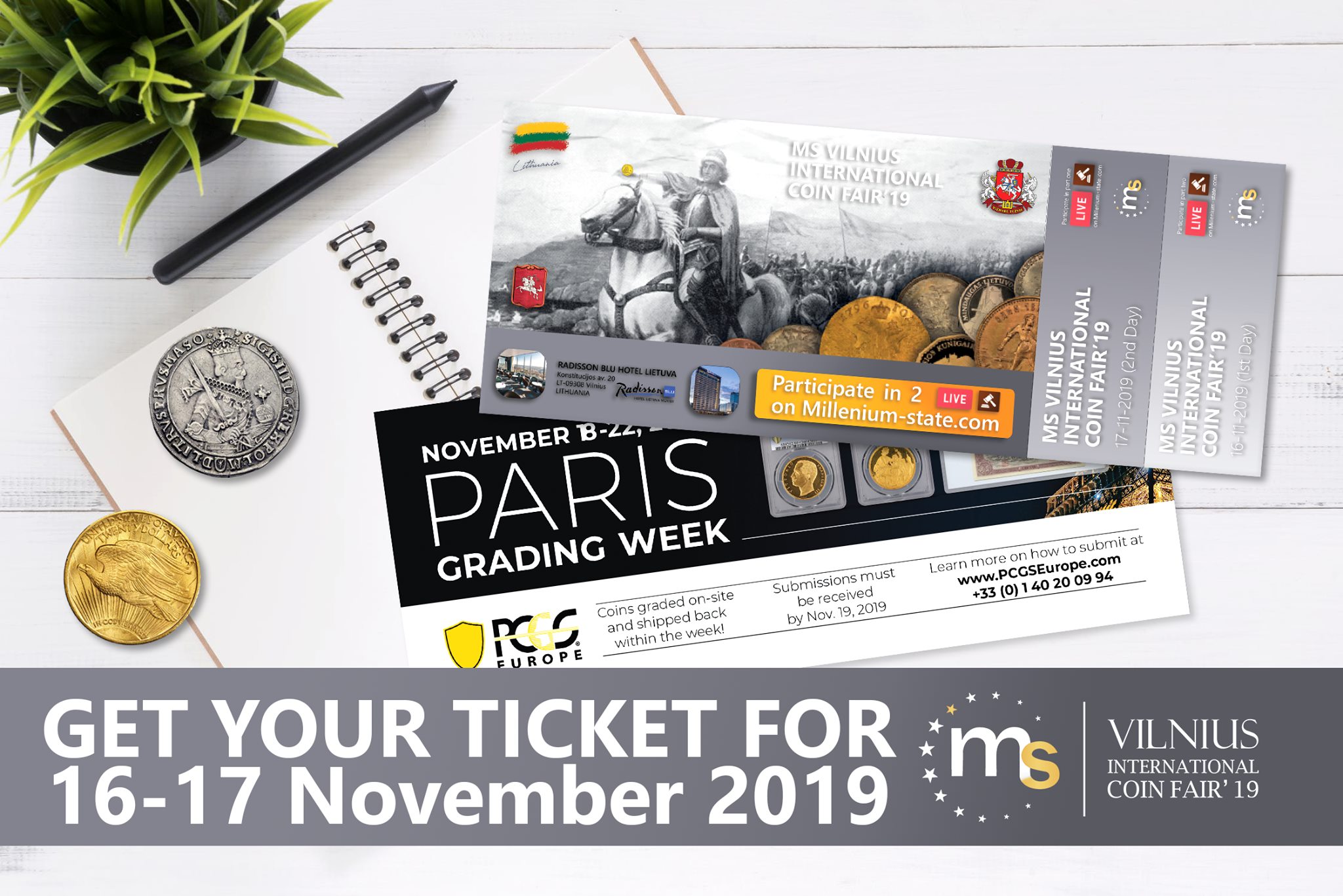 Hello Geoffrey
Thank you for bringing this event to my attention.
I have some questions that I hope that you or the organizers can answer.
What are the charges for a table at the event? What are the customs regulations for exhibitors/dealers at the event for importing coins/paper money and other items at the event? Is there someone who is associated with the event that speaks English and is available to advise exhibitors/dealers on how to deal with any required import/export processes?
Thank you.
Regards
Dear Paul Neuman,
Thank you for your interest.
We didn't organize the fair this year due to the covid. We will try next year if this is possible. Please leave us all your details to ms-coin-fair@millenium-state.com for next year. Rates starts from 129€ a table for 2 days to 999€ the best stand.
Wish you a nice days and Merry Christmas
Best regards
Geoffrey Winstein
Hello Geoffrey
Thanks for feedback. This is my first time on the site after this plandemic.
Please contact me on indostocks@gmail.com for contact when you restart the shows.
In order to participate in discussions you must login.