20 Euro - 150th Birth Anniversary of Vilhelmas Storosta-Vydūnas (2018)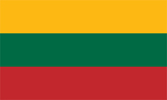 Features
| | |
| --- | --- |
| Denomination | 20 Euro |
| Weight (g) | 28.28 |
| Diameter (mm) | 38.61 |
| Shape: | Round |
| Composition: | Silver (.925) |
| | Not Magnetic |
| Metal Value (USD) | 19.07 |
| Currency Value (USD) | 20.51 |
| Orientation | Medal orientation ↑↑ |
| | Commemorative |
| | Non Circulating |
Obverse
Engraved by Lukas Šiupšinskas, Alvydas Ladyga and Rytis Valantinas
Lettering:
LIETUVA 2018
20€

Description:
Vytis (Coat of Arms of the Republic of Lithuania) against the background of the Bridge of Queen Louise in Tilsit. By artistic means the composition conveys the efforts of Vydūnas to join Lithuania Major and Lithuania Minor. At the top of the coin – inscription LIETUVA and the year of issue, on the bottom left-hand side – coin denomination. The logo of the Lithuanian Mint is impressed on the right-hand side of the obverse of the coin.
Reverse
Engraved by Lukas Šiupšinskas, Alvydas Ladyga and Rytis Valantinas
Lettering:
VYDŪNAS 150

Description:
Vydūnas (real name Vilhelmas Storosta, 1868–1953) – writer, philosopher and a society figure of Prussian Lithuania, or Lithuania Minor.
Edge
Lettering:
KLAUSYTI NORIU IR TARNAUT ŠVIESYBEI, DORYBĖS, ŽMONIŠKUMO BŪT PAVEIKSLU

Description:
Inscription: I WANT TO SERVE AND BE GUIDED BY THE LIGHT, BE AN IMAGE OF VIRTUE AND HUMANITY.
| Year | Mintage | Comment | Rarity |
| --- | --- | --- | --- |
| 2018 | 2,500 | Proof | Unknown |