20 Euro - 100th Anniversary of Algirdas Julien Greimas (2017)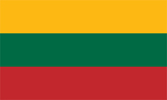 Features
| | |
| --- | --- |
| Denomination | 20 Euro |
| Catalog Number | KM# 233 |
| Weight (g) | 28.28 |
| Diameter (mm) | 38.61 |
| Shape: | Round |
| Composition: | Silver (.925) |
| | Not Magnetic |
| Metal Value (USD) | 19.07 |
| Currency Value (USD) | 20.51 |
| Orientation | Medal orientation ↑↑ |
| | Commemorative |
| | Non Circulating |
Obverse
Engraved by Rolandas Rimkūnas
Lettering:
LIETUVA
2017
20 €

Description:
Stylised Vytis (National Coat of Arms of Lithuania) within the Semiotic Square, on the top name of country, below denomination of the coin, and to the left date of issue.
Reverse
Engraved by Rolandas Rimkūnas
Lettering:
JULIUS
ALGIRDAS
GREIMAS
100

Description:
Portrait of Algirdas Julien Greimas, as well as the number marking his centenary: 100.
Algirdas Julien Greimas, was a French-Lithuanian literary scientist, known among other things for the Greimas Square (le carré sémiotique). He is, along with Roland Barthes, considered the most prominent of the French semioticians. With his training in structural linguistics, he added to the theory of signification and laid the foundations for the Parisian school of semiotics. Among Greimas's major contributions to semiotics are the concepts of isotopy, the actantial model, the narrative program, and the semiotics of the natural world. He also researched Lithuanian mythology and Proto-Indo-European religion, and was influential in semiotic literary criticism.
| Year | Mintage | Comment | Rarity |
| --- | --- | --- | --- |
| 2017 | 3,000 | Proof | Not Common |