10 Litų - 20th anniversary of Republic (1938)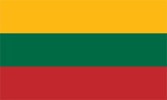 Features
| | |
| --- | --- |
| Denomination | 10 Litų |
| Catalog Number | KM# 84 |
| Weight (g) | 18 |
| Diameter (mm) | 32.2 |
| Thickness (mm) | 2.5 |
| Shape: | Round |
| Composition: | Silver (.750) |
| | Not Magnetic |
| Metal Value (USD) | 12.24 |
| Orientation | Medal orientation ↑↑ |
| | Commemorative |
| | Demonetized |
| Demonetized | 2014-10-02 |
Obverse
Engraved by Juozas Zikaras
Lettering:
XX DVIDEŠIMT METŲ NEPRIKLAUSOMYBĖS
LIETUVA
1918-1938

Description:
Columns of Gediminas.
The Columns of Gediminas or Pillars of Gediminids are one of the earliest symbols of Lithuania and one of its historical coats of arms. They were used in the Grand Duchy of Lithuania, initially as a rulers' personal insignia, a state symbol, and later as a part of heraldic signs of leading aristocracy. During the period between World War I and World War II they were used by the Lithuanian Republic as a minor state symbol.
The name was given in the 19th century by historian Teodor Narbutt, who supposed that the symbol was Gediminas' (Grad Duke of Lithuania 1316 - 1341) insignia. The more exact name of the symbol is the Pillars of Gediminids, since there is no direct evidence of its connection with Grand Duke of Lithuania Gediminas.
Translation: 20 years of independence.
Reverse
Engraved by Juozas Zikaras
Lettering:
VALSTYBĖS PREZIDENTAS A. SMETONA
10 LITŲ 10

Description:
Antanas Smetona facing left.
Antanas Smetona was one of the most important Lithuanian political figures between World War I and World War II. He served as the first President of Lithuania from 4 April 1919 to 19 June 1920. He again served as the last President of the country from 19 December 1926 to 15 June 1940, before its occupation by the Soviet Union. He was also one of the famous ideologists of nationalism in Lithuania.
Edge
Engraved by Juozas Zikaras
Lettering:
TAUTOS JĖGA VIENYBĖJE

Description:
Plain with inscription: nation's strength in unity.
| Year | Mintage | Comment | Rarity |
| --- | --- | --- | --- |
| ND (1938) | 170,000 | | Rare |