25 Mils - Elizabeth II (1955)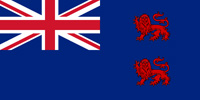 Features
| | |
| --- | --- |
| Denomination | 25 Mils |
| Catalog Number | KM# 35 |
| Weight (g) | 2.8 |
| Diameter (mm) | 19.25 |
| Thickness (mm) | 1.3 |
| Shape: | Round |
| Composition: | Copper-Nickel |
| | Not Magnetic |
| Orientation | Medal orientation ↑↑ |
| | Demonetized |
Obverse
Engraved by Cecil Walter Thomas
Lettering:
QUEEN ELIZABETH THE SECOND

Description:
Crowned Queen Elizabeth II facing right.
Reverse
Engraved by William Maving Gardner
Lettering:
GOVERNMENT OF CYPRUS · TWENTY FIVE MILS
25
· 1955 ·

Description:
Bulls head above denomination, date below.
In ancient times, bull masks made from real bull skulls were worn in rites, and neolithic bull-horned stone altars have been found in Cyprus.
| Year | Mintage | Comment | Rarity |
| --- | --- | --- | --- |
| 1955 | 2,500,000 | | Common |
| 1955 | 2,000 | Proof | Very Common |