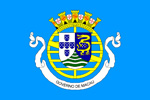 Features
| | |
| --- | --- |
| Denomination | 1 Pataca |
| Catalog Number | KM# 23 |
| Weight (g) | 9 |
| Diameter (mm) | 26 |
| Shape: | Round |
| Composition: | Copper-Nickel |
| | Not Magnetic |
| Orientation | Medal orientation ↑↑ |
| | Demonetized |
Obverse
Lettering:
* REPUBLICA PORTUGUESA * MACAU *
1983

Description:
Coat of Arms of Portugal, date below.
High stars: has the two bottom stars higher than the two lower towers in the Coat of Arms.
Low stars: has the stars at the lower than the towers.
Reverse
Lettering:
澳門
壹圓
1 PATACA

Description:
Design flanked by upright fishes and denomination.
| Year | Mintage | Comment | Rarity |
| --- | --- | --- | --- |
| 1982 | 6,427,000 | High stars | Common |
| 1982 | | Low stars | Common |
| 1983 | | High stars | Common |
| 1983 | | Low stars | Common |
| 1984 | | High stars | Common |
| 1985 | | High stars | Common |