2 Euro - 25 years of German Unity (2015)
Get this coin! These CoinsBook users have this coin for exchange. Offer a swap!
User Quantity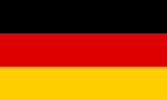 Features
| | |
| --- | --- |
| Denomination | 2 Euro |
| Catalog Number | KM# 337 |
| Weight (g) | 8.5 |
| Diameter (mm) | 25.75 |
| Thickness (mm) | 2.2 |
| Shape: | Round |
| Composition: | Bi-metallic Nickel-Brass plated Nickel center in Copper-Nickel ring |
| | Magnetic |
| Currency Value (USD) | 2.4 |
| Orientation | Medal orientation ↑↑ |
| | Commemorative |
Obverse
Engraved by Bernd Wendhut
Lettering:
25 JAHRE DEUTSCHE
WIR SIND EIN VOLK
EINHEIT 2015
WIR SIND EIN VOLK
WIR SIND EIN VOLK
A
A BW

Description:
The people in the foreground, who embody a new beginning and the advance towards a better future, are standing in front of the Brandenburg Gate, symbol of German unity. The rendering of the statement Wir sind ein Volk ('we are one people') — a collective expression of will by German citizens – represents the path forwards towards German reunification. The inner part also features the mint mark of the respective mint ('A', 'D', 'F', 'G' or 'J') as well as the issuing country's country code 'D' and the engraver's mark (the initials 'BW' — Bernd Wendhut). The coin's outer ring depicts the 12 stars of the European flag.
Reverse
Engraved by Luc Luycx
Lettering:
2 EURO
LL

Description:
Map of 15 EU members in their entirety. Six fine lines cut across the map except where there is landmass and have a star at each end – reflecting the twelve stars on the flag of Europe. Across the map is the word EURO, and a large number 2 appears to the left hand side of the coin. The designer's initials LL.
| Year | Mintage | Comment | Rarity |
| --- | --- | --- | --- |
| 2015 A | | | Common |
| 2015 A | | In sets only | Unknown |
| 2015 A | | Proof | Unknown |
| 2015 D | | | Common |
| 2015 D | | In sets only | Unknown |
| 2015 D | | Proof | Unknown |
| 2015 F | | | Common |
| 2015 F | | In sets only | Unknown |
| 2015 F | | Proof | Unknown |
| 2015 G | | | Common |
| 2015 G | | In sets only | Unknown |
| 2015 G | | Proof | Unknown |
| 2015 J | | | Common |
| 2015 J | | In sets only | Unknown |
| 2015 J | | Proof | Unknown |