2 Euro - 2016 UEFA European Championship (2016)
Get this coin! These CoinsBook users have this coin for exchange. Offer a swap!
User Quantity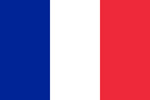 Features
| | |
| --- | --- |
| Denomination | 2 Euro |
| Weight (g) | 8.5 |
| Diameter (mm) | 25.75 |
| Thickness (mm) | 2.2 |
| Shape: | Round |
| Composition: | Bi-metallic Nickel-Brass plated Nickel center in Copper-Nickel ring |
| | Magnetic |
| Currency Value (USD) | 2.25 |
| Orientation | Medal orientation ↑↑ |
| | Commemorative |
Obverse
Engraved by Joaquin Jimenez
Lettering:
UEFA EURO 2016 FRANCE
RF

Description:
Held every four years since 1960, the UEFA men's football European Championship, commonly referred to as "the Euro", will take place in France from 10 June to 10 July 2016. Euro 2016, the fifteenth edition of the European Football Championship, is organised by the Union of European Football Associations and brings together the best men's football teams in Europe. The winner of the competition receives a small-scale version of the Henri Delaunay Cup, named after the man who invented the competition. The design of the coin features the Henri Delaunay Cup in the middle of an outline map of France, along with the two marks of the Paris Mint. The letters RF for République Française (French Republic) are to the right of the map of France, and the name of the competition "UEFA EURO 2016 France" is written above it. Below the map, a football stands out in the foreground. All of this is set on a background that features graphical elements representing the competition. The coin's outer ring bears the 12 stars of the European Union.
Reverse
Engraved by Luc Luycx
Lettering:
2 EURO
LL

Description:
Map of 15 EU members in their entirety. Six fine lines cut across the map except where there is landmass and have a star at each end – reflecting the twelve stars on the flag of Europe. Across the map is the word EURO, and a large number 2 appears to the left hand side of the coin. The designer's initials LL.
Edge
Lettering:
2**

Description:
Reeded with inscription.
| Year | Mintage | Comment | Rarity |
| --- | --- | --- | --- |
| 2016 | 9,980,000 | | Common |
| 2016 | 10,000 | In sets only | Unknown |
| 2016 | 10,000 | Proof | Unknown |