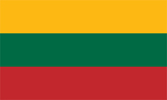 Features
| | |
| --- | --- |
| Denomination | 1 Litas |
| Catalog Number | P# 53 |
| Dimensions (mm) | 135 X 65 |
| Material | Paper |
| Orientation | Horizontal |
| | Demonetized |
| Demonetized | 2007-03-01 |
| Printer | Thomas De La Rue & Company, Limited (England) - TDLR |
| Watermark | Coat of Arms "Vytis" |
Obverse
Lettering:
1 1994 LIETUVOS BANKAS
1
1 VIENAS LITAS

Description:
Žemaitė at right.
Žemaitė (literally female Samogitian) – a pen name of Julija Beniuševičiūtė-Žymantienė. Was a Lithuanian/Samogitian writer. Born to impoverished gentry, she became one of the major participants in the Lithuanian National Revival. She wrote about peasant life in the style best described as realism.
Reverse
Lettering:
1
1 VIENAS LITAS

Description:
Coat of Arms "Vytis" at center, 18th-century wooden church in Palūšė at left.
| Variation | Print |
| --- | --- |
| Issued note. | |
| Uncut sheet of 40. | |
| Replacement note, ZZ serial # prefix. | |